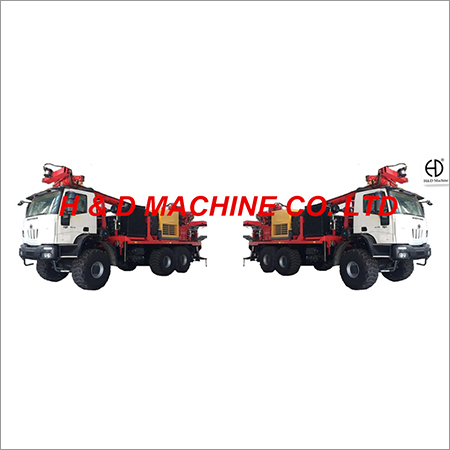 Water Well Drilling Rig
Product Description
We are an eminent manufacturer of Water Well Drilling Rig to our highly esteemed clients. It can be used to complete well drilling with the direct circulation method. This rig is mounted on a 6X4 or 6X6 off-road vehicle chassis, and the drilling power is obtained directly from the chassis PTO. Water Well Drilling Rig has the feature of simple structure, simple operations, flexibility and efficient construction ability. It is inspected on various parameters to ensure adherence to the industrial laid norms and standards.
Water Well Drilling Rigs – Easy To Use, Reliable & Affordable
The rig features a good combination of hydraulic and mechanical transmission. It is also excellent in control, stability and performance. The fast-moving & powerful rig offers comprehensive drilling ability. There are rotary head, mast assembly, control panel, and other allied accessories. The rigs are perfect for water well, geotechnical, mineral exploration, and other drilling needs.
Features/Benefits:
Flexibility & efficient construction ability

Simple structure and easy operations

Designed to be tough, highly reliable & durable

Heavy-duty and high performance water well rigs

Specifications:


Max. drilling depth
Hole diameter (6 1/2") 165 mm
400 m
Hole diameter (12 1/4") 312 mm
200 m
Drill tools
Drill pipe (diameter×length) mm
Ф89×6000
Drill pipe (diameter×length) mm
Ф127×6000
Power swivel
Output torque N.m
8300 / 14000
Rotary speed r/min
120 / 72
Feed system
Feed/hoisting force kN
160
Hoisting speed m/s
0~0.44
Rod clamp
Clamping force kN
150
Unsrewing torque N.m
20000
Hydraulic system
Rotary speed of hydraulic pump r/min
1600
Working pressure
Rotation rate MPa
25
Feed MPa
25
Mud pump system MPa
25
Auxiliary system MPa
20
Mud pump
Displacement L/min
850
Pressure MPa
4
Screw air compressor
Displacement M3/min
23
Pressure bar
24.1
Chassis (6*6)
Diesel power HP
480
Max. bearing weight kg
33000