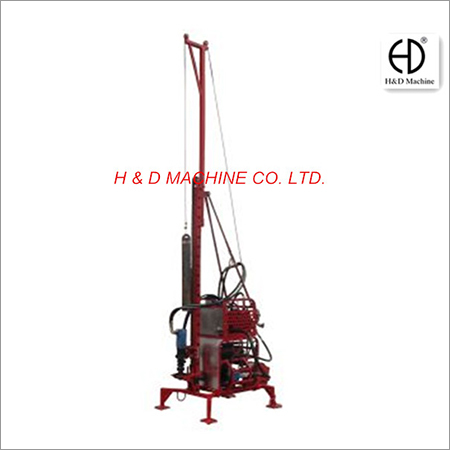 Man Portable Core Drill Rig
Product Description
Man Portable Core Drill Rigs

Provided Man Portable Core Drill Rigs are made for the task of mineral exploration. They can be either mounted in truck or crawler and can be utilized for multipurpose applications with supportive compressors affixed in a separate manner. Specifically configured to remove the cylinder of material, similar to the hole saw, these are used in the metal known as annular cutters. Utilized for concrete, these are water cooled. Useful in the mineral exploration where the coring length is in hundred to several thousand feet, these are offered in assorted manners. Offered Man Portable Core Drill Rigs come with highly efficient drilling function.

Key Points :

Offered with several power choices including pneumatic, hydraulic, electric, (all of which are in the need of power sources, for ex generator).
Resourceful for the drilling of various hole sizes.
Proffer optimal coring & exploration execution in various construction sites.
Functional with several heights and temperature variations.
Specifications:
Drilling method
Depth
Pipe(diameter×length)
Hole diameter
Mud drilling
30 m
φ60×1500
75/90mm
Air drilling/Hammer drilling
30 m
φ60×1500
75/82mm
Screw drilling
15 m
φ50×φ90×1500
90mm
Power swivel
Rating torque
660 N.m
Rated speed
0~170 r/min
Hoisting/Push-down system
Max. hoisting weight
1000 kg
Max. Push-down Force
4 kN
Max. hoisting speed
0.77 m/s
Hydraulic system
Working pressure
190 bar
Engine power
23 hp / 3600r/min
Weight
Max. Sets
≤75 kg
Overall unit
≤272.5 kg
Overall dimension
About 1250×1000×2800 /When running
Piston mud pump
Gasoline or diesel power option
Pressure
14 bar
Displacement
120 L/min
Weight
≤115 kg
Air screw compressor
1 set
Total displacement
3.0~3.8 m3/min
Pressure
3.8 MPa
Weight
≤180 kg (One Sets)