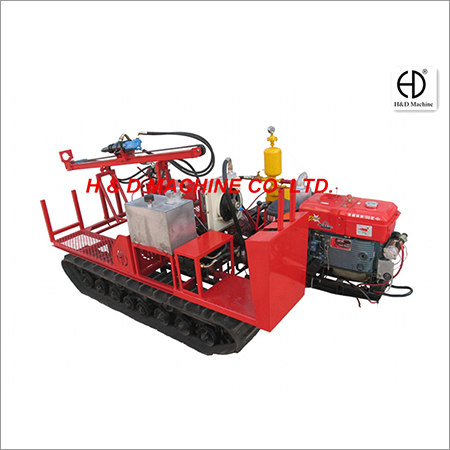 HD-C40 Crawler Drilling Rig
Product Description
We are highly acclaimed for providing durable HD-C40 Crawler Drilling Rig, which are highly efficient and save energy. Known for the brilliant drive system and best lifting capacity, these products are available at competitive prices. These are well recognized for the most intricate purposes of various industries and used in bolting, cabling, tunneling etc. Ideal for the usages in blasting for surface mines, these HD-C40 Crawler Drilling Rig vary in their sizes, depending on the sizes of the holes. These quality products are commonly categorized into smaller pres-split and larger production holes.
Key Features:

Powerful and robust structures.

Effortless maintenance with well replaceable wear parts.

Easy mobility - both in hand-operated and self propulsion modes.

Adjustable stabilizers, locking and anchoring arrangement.

This crawler drilling rig is crucial for the oil industry. Great for petroleum regard, it is applicable in different challenging conditions. There are effective drilling methods for achieving maximum drilling levels.

With hydraulic driven, the crawler rig has several positive aspects:


Great hydraulic controls and fuel efficient nature
Offer consistent quality & performance
Air / water flow is regulated separately
Designed for mining, construction, geothermal, and drilling needs

Technical Specifications:
Drilling method

Depth (m)

Pipe(diameter*length) (mm)

The method of throwing dynamite

Hole diameter(mm)

Mud drilling

40

60*2500

After moving the tools

3",3.5"

Power swivel

Rating torque

445 N.m

Rated speed

0~410 r/min

Hoisting/Push-down system

Max. hoisting weight

1500 kg

Max. Push-down Force

20 kN

Max. hoisting speed

1.1 m/s

Hydraulic system

Working pressure

210 bar

Engine power

40 hp / 2200r/min /diesel

Weight

Chassis weight

≤500kg

Total weight

≤1000 kg

Rubber crawler

Dimension

2000X350X450X2

Ground pressure

<24 kPa

The Travel parameters

Travel speed

Forward

1.2~15 km/hour,four speed

Reverse

0.3~2.0 km/hour,two speed

Maximum traction force

50 N

Maximum load

400kg

Climbing angle

30%

Tilting slope

>30°

Roll back angle

>30°

Overall dimension

About When working

About :2500X1800X470 /When moving

Piston mud pump

diesel power option

Pressure

13 bar

Displacement

160 L/min